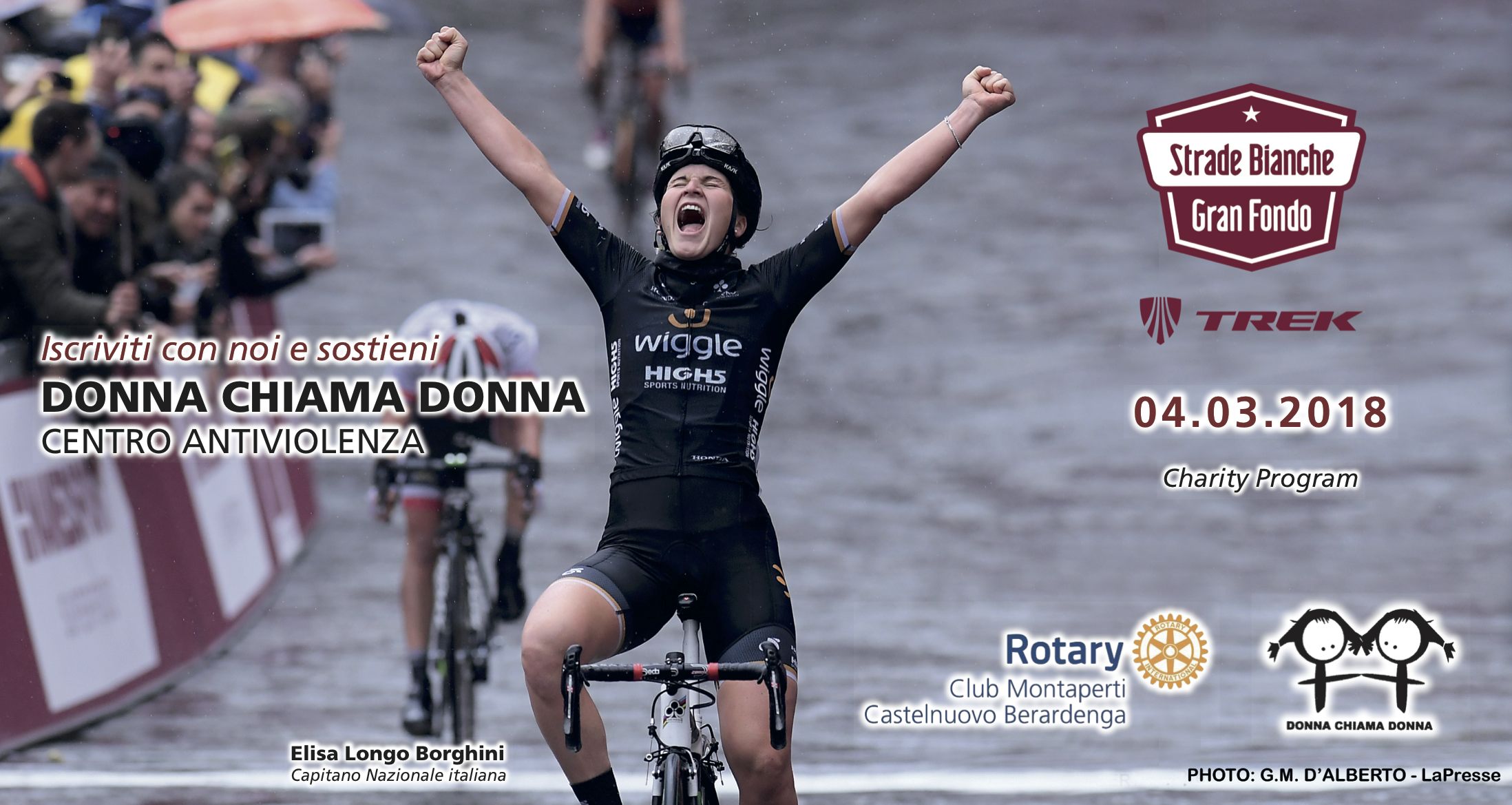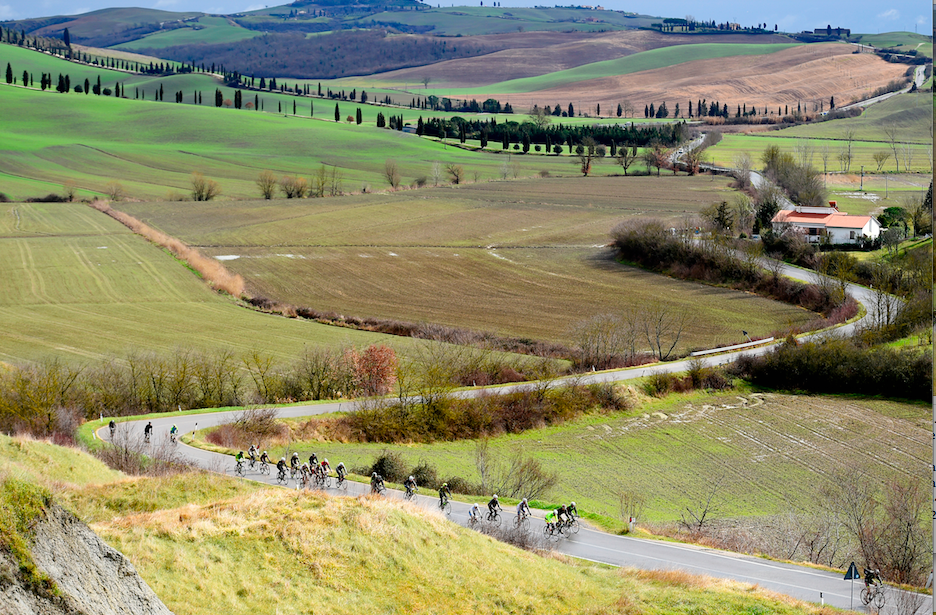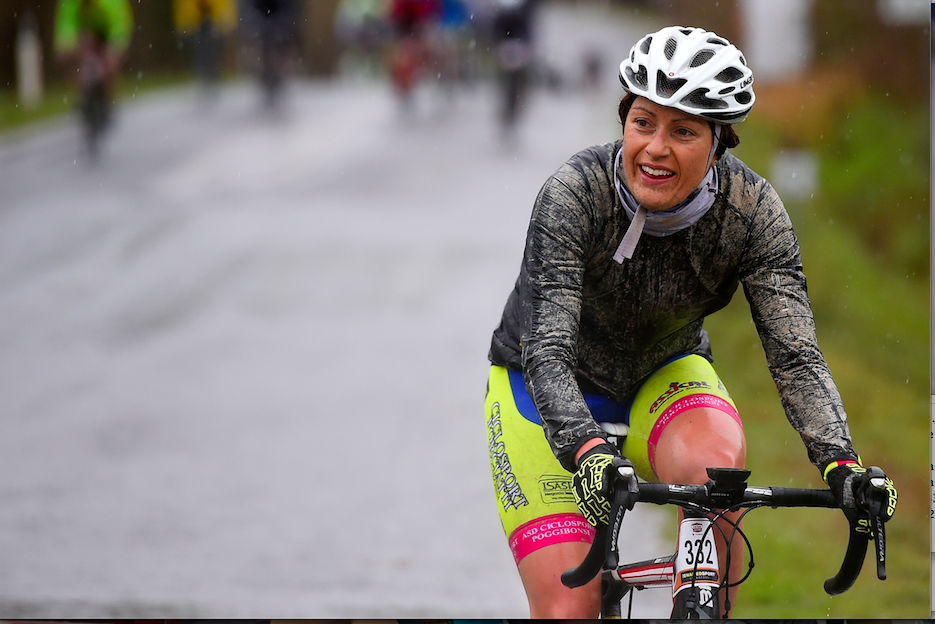 #DONNACHIAMADONNA
---
 Se sei un ciclista non perdere l'occasione di partecipare alla Gran Fondo STRADE BIANCHE.
Iscriviti con noi e impegnati in prima persona non solo nella sfida sportiva ma anche in quella solidale diventando fundraiser! 
Attiva subito la tua colletta online e se raggiungi almeno 250 euro di donazione avrai l'onore di partecipare alla Gran Fondo STRADE BIANCHE con un pettorale di prima griglia e maglia tecnica ufficiale dedicata.
 Se non partecipi alla Gran Fondo, pedala virtualmente con noi aiutando il nostro progetto con una donazione.
 Rotary Club Montaperti Castelnuovo Berardenga sostiene l'Associazione DONNA CHIAMA DONNA Onlus di Siena, centro antiviolenza, che dal 1996  offre accoglienza, protezione e sostegno alle donne che hanno vissuto  violenza fisica, sessuale, psicologica ed economica, aiutandole ad uscire dalla violenza per riconquistare la propria autonomia e autodeterminazione. L'associazione inoltre promuove azioni di sensibilizzazione sulla violenza di genere tramite momenti di riflessione e di confronto per contribuire alla cultura del rispetto altrui sia a scuola che nell'ambito sociale nei suoi diversi aspetti.
La violenza contro le donne è una violazione dei diritti umani, aiutaci a prevenirla!
Fai SUBITO una donazione e lascia un tuo messaggio nella bacheca
If you are a cyclist do not miss the opportunity to take part in the Gran Fondo STRADE BIANCHE in Tuscany landscape.
Join us in the sporty and solidarity challenge by becoming a fundraiser!
You can now activate your online raise and if you reach at least 250 euro donation you will be honored to participate in the WHITE STRING FANTASTIC FOUND with a first grid and official technical jersey pectoral.
If you do not participate in the STRADE BIANCHE competition, pedal virtually with us by helping our project with a donation.
Rotary Club Montaperti Castelnuovo Berardenga supports l'Associazione DONNA CHIAMA DONNA Onlus of Siena-Italy, an antiviolence center, which since 1996 offers hospitality, protection and support to women who have experienced domestic physical, sexual, psychological and economic violence, helping them out of the nightmare to regain its autonomy and self-determination. The association also promotes initiatives for young people to increase awareness on gender violence, through reflection and confrontation moments at school, increasing culture of tolerance and respect for other people.
Violence against women is a violation of human rights, help prevent it!
Make a donation NOW and leave your message in the online message board.